Deposit from only £100 PP
From 30/09/2024 to 06/10/2024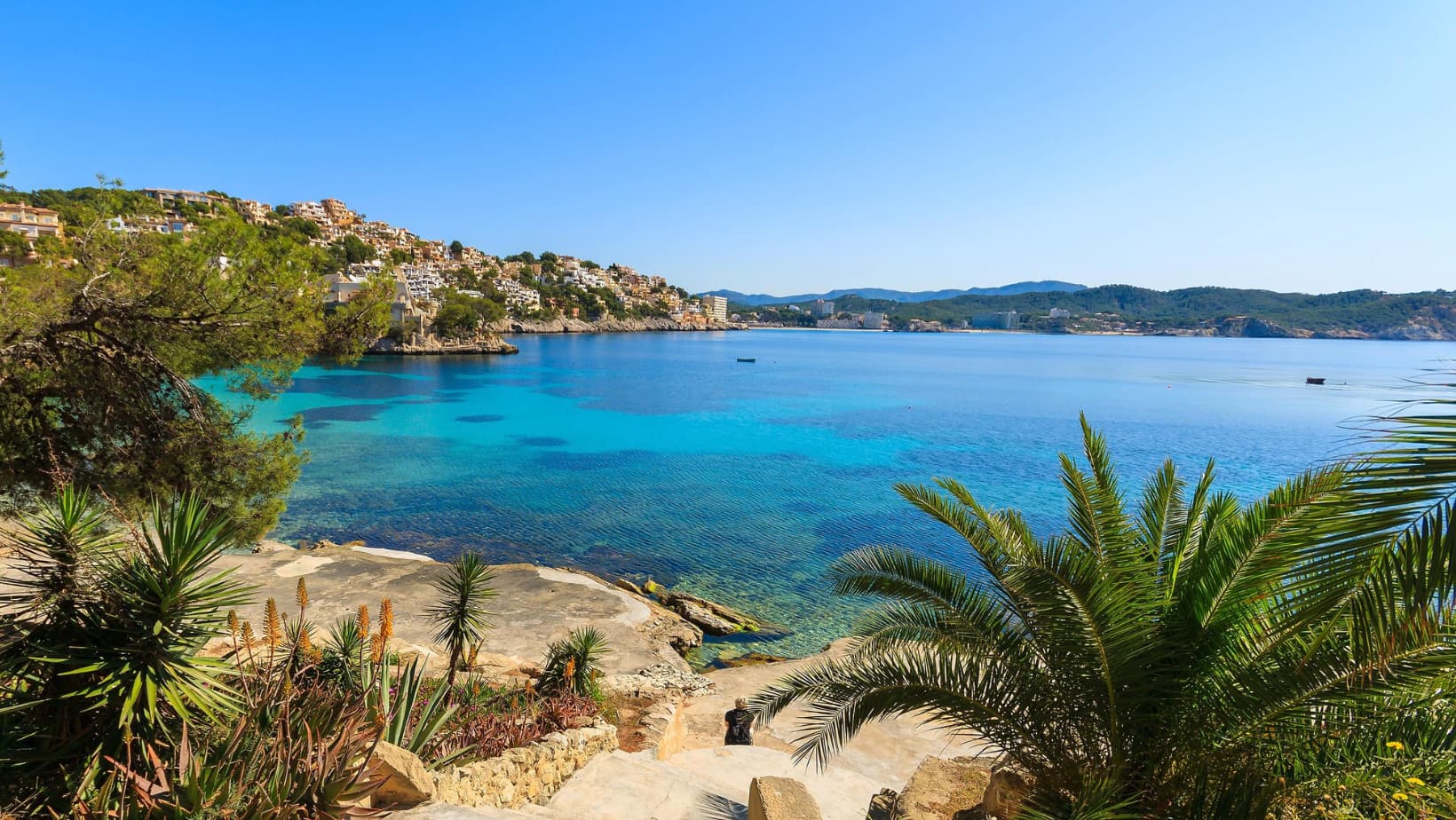 Overview & Accommodation
To book extra days, please book directly with the hotel – https://www.vibrahotels.com/mallorca/paguera-calvia/hotel-vibra-beverly-playa
We require your extra dates and booking reference number for extra nights booked externally
Cuban Salsa, Crossbody Salsa . Sensual Styles . Yoga & Wellbeing…and more!
Join us in Mallorca and celebrate our 26 Years of holidays
Another year, another epic dance holiday awaits in the stunning and upmarket resort of Pegeura which will be our home for 6 fun filled days and nights of dancing, laughter, sunshine and new friendships!
Our 4-star hotel has the perfect location directly on Paguera beach with the vibrant town just steps away. A beach promenade will take you on a beautiful stroll around the whole town and across to Paguera's other bays, it really is the perfect setting and just 20 minutes from Palma!
Our holidays are perfectly organised to give you a jam-packed dance itinerary alongside pool parties, beach games, our famous Latin party cruise, famous fancy dress night, a full program of Yoga, stretching and Well-being and if you just want some down-time away from all the dancing you can enjoy the extensive hotel facilities including spa, tennis courts, relaxation pool, games room, massage, bike hire and much more!
When night falls we'll be dancing the night away in our own hotel nightclub as well as taking you to our stunning dancing venues full of local dancers for hot nights packed with non-stop dancing, partying and laughter until the early hours…and then if you still want more you can head to our after-party club a short stroll from our hotel!
Your holiday will include a variety of dance classes in Xbody Salsa, Cuban salsa. Sensual styles including Bachata & Kizomba and all other variations of these styles…there is nothing we don't offer! You also have loads of time for just dancing and socialising away from the workshop environment.
Our teachers are absolutely the best! They are professional, International dancers and teachers with years of experience, together they make up the most amazing Eagle Team but most importantly they are inclusive of everyone and know how to have fun!
Your stay includes delicious breakfasts and dinners (including drinks) and you can upgrade to All Inclusive for a small extra cost!
After years you can rest assured our holidays are perfectly organised, nothing is too much trouble for our team – so join us for another incredible dance holiday of dance, laughter, fun, sun and friendships.
ACCOMMODATION TYPES
The Hotel Beverly Playa is a 3 star hotel but with many 4 star amenities including indoor pool and spa area, gym, crazy golf and a total of 3 pools including one full size swimming pool located on the upper chill out decking area with another large and smaller pool right next door to the beach where our lively afternoon pool parties will take place.
This hotel even has its very own disco – perfect for our warm up parties & after Parties
The Beverly Playa offers standard which are due to be renovated in 2024 with ensuite & balconies . All rooms are exceptionally clean and the majority have a full/part sea / beach view.
The cost of your holiday is based on 2 people sharing a room.
A single supplement applies for 1 person.
We can offer room-shares to avoid paying the single supplement, please let us know if you wish us to help you with this.
What's Included
Six nights half-board accommodation
Over 20 hours of dance workshops
Social dancing each afternoon
Pool Party
Dance & Fun fuelled nightly Latin clubs & parties
Beach Yoga, Stretching & Meditation
Transport to clubs where required
Latin Party Cruise*
Biking tours of the Island*
Our fabulous guest teaching team on hand throughout the week
Eagle Tours Team on hand with over 26 years organising these holidays.
A few additional surprises and entertainment
Our famous Fancy Dress Theme night
Over 300 days of beautiful sunshine!* additional cost for optional activities.
Destination
THE RESORT – PAGUERA
Paguera is a larger beach resort and only 20 minutes from Palma city.
Paguera is an upmarket Mallorcan town set around 3 stunning beaches. It has a mile long promenade running through the town full of interesting shops, bars and restaurants. There is also a beach promenade which links the beaches and makes a lovely way to explore the coastline or simply enjoy the views while having a sangria! There is lots to see and do in Paguera; It has a real cosmopolitan feel – our guests love the location!
Getting There
FLIGHTS
Flights are not included, it is more convenient for you to purchase your own flight from your local airport. Flights are much cheaper the earlier you book – and remember the local airport is Palma!
Almost all Airlines fly to Mallorca.

5 Star Rated Service
Whatever you want from your holiday our perfectly tailored itinerary is sure to exceed even the highest of expectations.
Turbo Gza
Excellent. Very well organised in a lovely venue. Team are all excellent dance teachers with great personality and work hard to create a great atmosphere on and off the dance floor.
Lindsey Metcalfe
Amazing dance holidays to many locations across the world, great service and so friendly , they can't do enough for you!
Mart
I enjoyed the salsa holiday immensely. Everyone at the organisation, including the instructors, were so welcoming and friendly.
It was a great balance between relaxing, workshops and having fun in the evening.
J Horsham
You showed us another world in Cuba, thank you for opening our eyes. The culture and people of this fascinating place made us want to come back for more.
J Horsham
You showed us another world in Cuba, thank you for opening our eyes. The culture and people of this fascinating place made us want to come back for more.
S Bateman
Your Team were so friendly and accommodating, they made me feel welcome and at ease on my first holiday as a solo traveller.